Texas has long stood alone as the clear leader in wind development in the United States. As of August 2017, the state has 21.1 GW of wind capacity, which represents a full 25% of total U.S. capacity and is more than 3 times the capacity in Iowa, the country's second leading wind state. Notably, Texas has no meaningful Renewable Portfolio Standard (RPS) driving development—it blew past its goal of 5.8 GW in 2008, several years in advance of the 2015 target.
Instead, the steady rate of new capacity additions has been the result of world-class wind resources (especially in West Texas) and extremely low development costs, due largely to the availability of low land lease rates. The massive investment (~$10.5 billion) in new transmission, specifically the Competitive Renewable Energy Zones (CREZ) initiative, has also been a key facilitator of development, as have steadily falling costs (see graph below) and the continued—if intermittent—availability of the federal Production Tax Credit (PTC).
Remarkably, the pace of wind development in Texas shows no sign of slowing. Currently, 4.2 GW of new capacity is under construction, with at least another 2.8 GW in various stages of advanced proposal. Through mid-October, wind has been responsible for 18% of total generation in ERCOT in 2017 (up from 15% over the same time period in 2016). By the end of 2019, EVA projects there will be at least 26.3 GW of wind capacity in Texas.
More recently, it has become increasingly clear that Texas is also on the cusp of a booming solar market. As a complement to its strong wind resources, much of Texas offers high quality solar resources, as well. Solar developers can also take advantage of the widespread availability of cheap land and to a certain extent, can link into the same CREZ transmission network that has proven so critical to wind development. Further, the availability of the 30% Investment Tax Credit (ITC) greatly enhances project economics.
Yet, more than any other factor, the expected boom in Texas solar development is the result of plummeting solar costs. According to recent data from the U.S. DOE, utility scale solar costs have fallen to $1.44/W(AC) as of mid-2017, excluding the ITC. The relentless pace of declining solar costs is difficult to overstate (see chart below), as just a few years ago costs regularly came in well North of $2/W(AC). Whether this rate of decline continues is an open—and very important—question.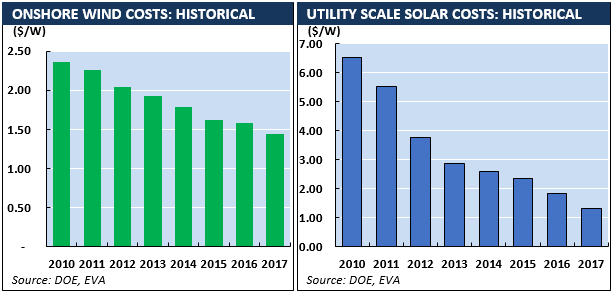 Regardless, at current cost levels, many developers appear confident they can make solar projects work in the Texas market. Having added only 400 MW of utility solar over 2015 and 2016, Texas has already brought online 396 MW of solar through August 2017 and has an additional 598 MW under construction. Thus, 2017 will be, by a considerable margin, a record year for solar development in the state (EVA estimates total 2017 additions to reach 772 MW).
Yet the build in 2018 and 2019 looks even more promising. Currently, 1.4 GW of projects are in various stages of advanced proposal and the ERCOT interconnection queue features nearly 10 GW of solar proposals. Much of this capacity is in very preliminary stages and not all of it will move forward, but the magnitude of the proposal queue is indicative of the perceived solar opportunity in Texas.
In total, EVA projects an additional 2.6 GW of solar capacity will come online in Texas through 2018 and 2019. Beyond 2020, the question becomes whether costs can continue falling at a rate sufficient to make up for the impending phase-out of the ITC. The Trump administration's pending decision on the International Trade Commission case regarding solar panels, which may include the imposition of considerable import tariffs on modules, could also have a major impact on project costs and pace of development (a decision from the President is expected by December or January). However, if costs continue to fall, Texas—already a leader in wind—could quickly emerge as a leading solar state, as well.
For more details on renewable energy development in Texas and throughout the U.S., check out EVA's Quarterly Renewable Energy Outlook. Or, reach out to Dustin Meyer, EVA's lead renewable energy analyst, at [email protected]