Renewable energy generation in the United States is increasing rapidly, driven by record installations of onshore wind and utility-scale solar capacity. In many regions, the rising penetration of variable renewable energy generation is fundamentally altering the operational dynamics of the power grid. The rise of behind-the-meter distributed energy resources—most notably rooftop PV, but also battery storage and energy efficiency—is further accelerating the pace of change.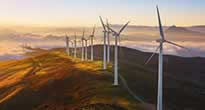 Amid strong policy support and plummeting costs for renewable energy, rapid capacity growth is expected to continue and the issues associated with renewable energy integration will become ever more pronounced. For that reason, understanding the potential of renewable energy technologies, as well as their challenges, is vital to accurately projecting the future of the U.S. power industry.
EVA has been tracking renewable energy development for more than two decades and is deeply familiar with the multiple factors driving the rapid transformation of the industry. This experience, combined with the firm's expert understanding of U.S. power markets, allows EVA to offer a uniquely balanced and clear-eyed perspective on the future of renewable energy.
To learn more about EVA's renewable energy expertise, expand the section below.
Short- and long-term state-by-state renewable energy capacity and generation forecasts by technology, including distributed generation (rooftop PV)
Renewable energy technology cost and performance studies
Renewable energy project tracking database
State-by-state Renewable Energy Credit (RECs) and solar REC price forecasts
Renewable energy market penetration studies
Legislative/Regulatory policy tracking and policy impact studies
Economic and environmental assessments for individual wind projects
Project decommissioning cost estimates
Expert testimony