Yesterday the EPA released the final Affordable Clean Energy (ACE) rule. The rule was mostly unchanged from the original proposed rule. EVA's environmental team has drawn the following takeaways for how the ACE rule will impact the industry:
The rule will impact all coal-fired electric generating units (EGUs) greater than 25 MW, which were in operation or commenced construction before Jan 8, 2014, which provide more than one-third of their electrical output onto the grid, and which use coal for at least 10% of their fuel requirement. All natural gas-fired generation is excluded (steam-gas, combustion turbines, CCGTs), as well as IGCCs.
EPA has established that heat-rate improvements (HRI) at individual EGUs is the appropriate and best system for emissions reduction (BSER) for CO2 emissions under Section 111(d) of the clean air act (CAA).
States are now required to establish CO2 emission rate limitation on an individual EGU level (no station-wide averaging among affected EGUs).
EPA retained the same seven candidate technologies for HRI that states are required to consider when establishing CO2 emission rate limitations for individual EGUs.

However, states are allowed to consider other technologies not included on this list if they are more cost effective for individual EGUs.
States are also allowed to establish CO2 emission rate limits for individual EGUs based on certain operating or environmental characteristics (e.g., different capacity factors, different rates for different seasons)

To exclude any EGU from compliance, states will have to prove that the individual EGU either already employs all seven candidate technologies or has just recently finished the upgrades, or its remaining useful life is too short for a reasonable payback period for the upgrade investment.

EPA is vague on the exact length of reasonable payback period and leaves a lot of room for interpretation to the states. States can also show that the remaining useful life and other factors (e.g., the physical limitation for installing the HRI) allows the EGU to retrofit only part of the seven technologies.
EPA explicitly excludes averaging or trading among EGUs at the same station or within the same states, as well as biomass co-firing as compliance options since these go against their definition of BSER.

However, EPA does allow natural gas co-firing as an eligible compliance strategy.
States are required to submit their compliance plans three years from ACE rule publication in the Federal Register. EPA has 18 months to approve or disapprove a state plan. Compliance start for individual EGUs will be no later than two years from state plan submission, except when extensions are necessary to implement the HRI. Therefore, the ACE compliance date for most affected EGUs is no later than Q3 2024. This date can move forward as states submit their plans before the 3-year deadline.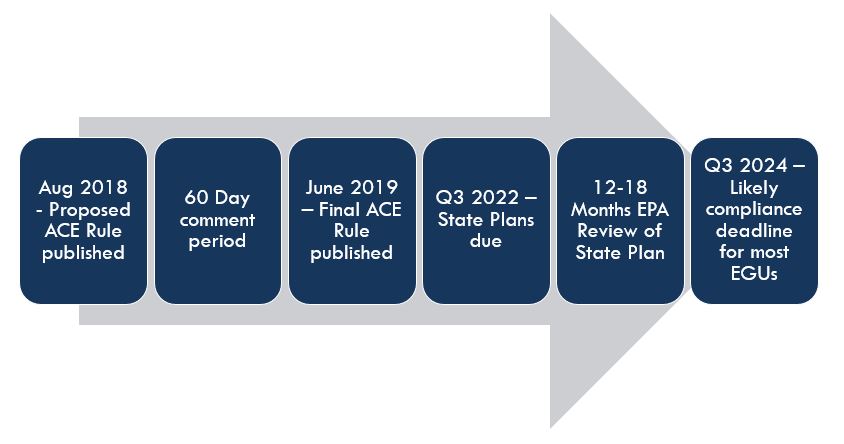 In finalizing the ACE rule, EPA did not finalize the proposed changes to the New Source Review (NSR) process that it proposed along with the ACE rule back in August 2018. While EPA still plans to finalize the NSR changes, EPA also acknowledges that two of the seven candidate technologies will likely not be cost-effective for most EGUs when including the cost for NSR and therefore will likely not be included by states when establishing CO2 emission rate limits. However, EPA did include the two technologies since, in general, their costs are reasonable and cost-effective.