Ohio H.B. 6 repeal in the works following allegations of bribery
Two Ohio House Democrats – Reps. Mike Skindell and Mike O'Brien – announced in a press release on Wednesday, July 22, that they will immediately introduce a bill to repeal House Bill 6, the controversial law passed a year ago that provides ratepayer-funded subsidies to two struggling Ohio nuclear plants owned by Energy Harbor (formerly FirstEnergy Solutions, FES).  The 1,240-MW Perry and 900-MW Davis-Besse plants are slated to receive an annual payment of $150 million for seven years to prevent their premature retirement.  Additionally, the bill indirectly provides subsidies for the Kyger Creek coal plant in Ohio and the Clifty Creek coal plant in Indiana as well as scales back the state's renewable and energy efficiency standards.  Its passage was widely panned by independent power producers, clean energy supporters, and ratepayer advocates.
Lawmakers' move to repeal H.B. 6 follows the July 21 arrest of Republican House Speaker Larry Householder and several lobbyists on charges of bribery and racketeering related to the bill's passage last summer.  Authorities allege that FES funneled more than $60 million into a Householder-controlled 501(c)(4) non-profit organization called Generation Now, which funded various H.B. 6 advocacy efforts as well as Householder's campaign for the House Speaker position.
Adverse market conditions led FES to seek subsidies
FES announced in March 2018 that it would retire its two Ohio nuclear facilities due to market challenges arising from low wholesale energy and capacity prices, but left the door open for reconsideration if state lawmakers passed legislation that would support their continued operation.  Booming production from the Marcellus and Utica shale regions had sent natural gas prices tumbling and ushered in a wave of gas plant development that significantly impacted the revenues of several nuclear plants in the PJM market.  Between 2016 and 2018, nearly 9,000 MW of gas-fired combined cycle capacity entered service in Ohio and neighboring Pennsylvania as developers rushed to capitalize on rock-bottom gas prices and coal plant retirements.  As a result, wholesale power prices suffered, as did the finances of merchant nuclear plants across the region.  More new gas-fired plants would follow in 2019.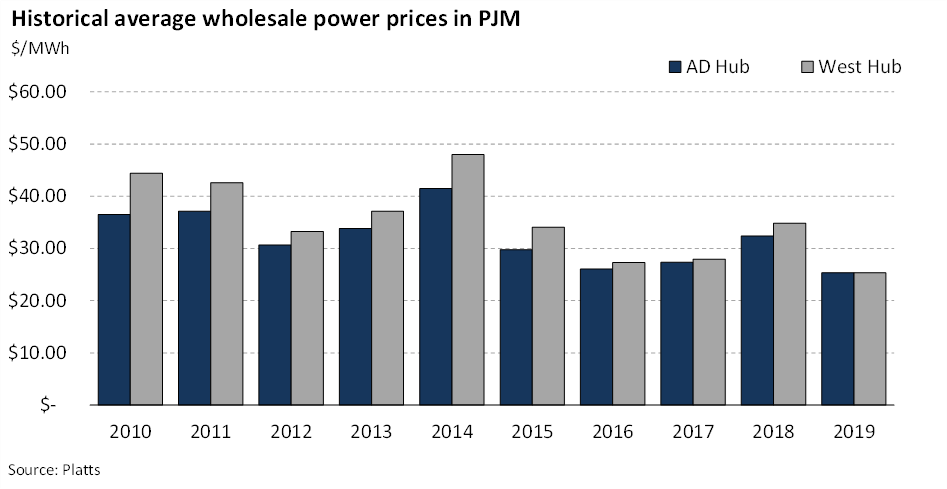 For at least two years FES, which emerged from bankruptcy proceedings as Energy Harbor, lobbied lawmakers for a legislative solution, which ultimately came in the form of H.B. 6 in July 2019.  Immediately following the bill's passage, developer Clean Energy Future halted efforts to build its 1,100-MW Lordstown 3 gas-fired power plant in northeastern Ohio, citing market-distorting subsidies and warning that such legislation would continue to hamper investment in the state.  Similarly, LS Power canceled a 500-MW expansion at one of its existing Ohio gas plants.
Quantifying H.B. 6's impact
Power sector natural gas consumption in Ohio jumped 500% over the past decade and, absent the passage of H.B 6, likely would make even sharper gains amid persistent low gas prices and mounting coal retirements.  Preliminary analysis by EVA indicates that the retention of Perry and Davis-Besse beyond their announced retirement dates will reduce annual gas consumption in Ohio by an average of 8% between 2020 and 2025.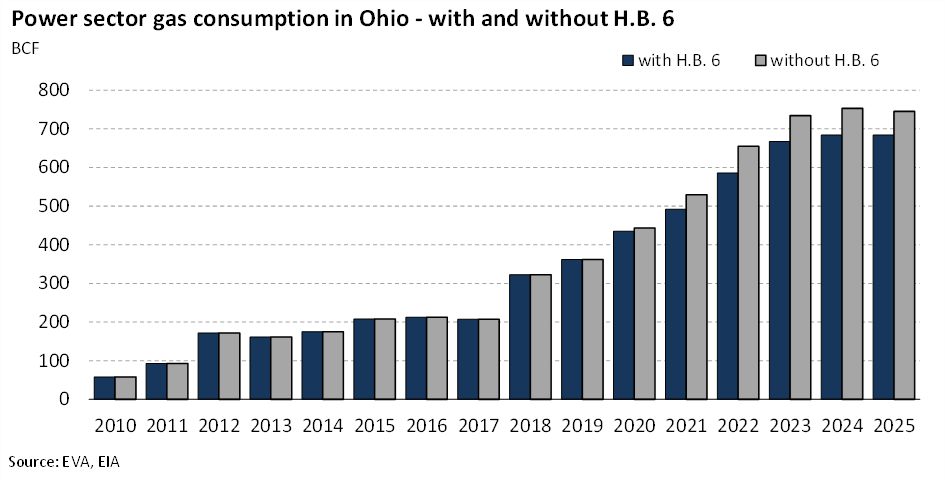 Drawing parallels in Illinois
A similar story unfolded in Illinois this month as Commonwealth Edison, the state's largest utility, agreed to pay $200 million to settle a federal bribery investigation.  As part of the agreement, ComEd admitted to arranging benefits for associates of Michael Madigan, the state's Democratic House Speaker, in exchange for his cooperation in certain legislative efforts beneficial to the utility.  The U.S. Attorney will defer prosecution for three years and then dismiss the charge provided ComEd meets certain conditions.
EVA continues to monitor the status of H.B. 6 repeal efforts and assess their potential impact on the PJM market.  For questions or to inquire about an engagement, please contact Rob DiDona at [email protected].