On May 30, 2018, Natural Gas Supply Association (NGSA) released their 2019 Summer Outlook for Natural Gas, which was prepared by Energy Ventures Analysis (EVA). According to EVA's forecast, remarkable demand growth for the upcoming summer will be matched by record-setting production, resulting in flat price expectations summer-over-summer.
Summer 2019 begins with a 1.13 TCF end-of-March natural gas storage inventory level, 505 BCF lower than the five-year average.  Summer season-to-date, injections have been extremely strong, and EVA expects that this summer's net injection will be 3.5 BCFD stronger summer-over-summer.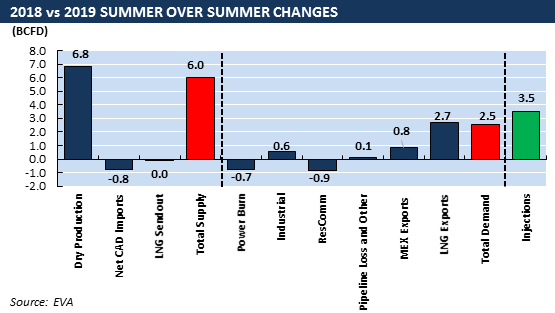 High injections this late in the season are a result of robust production levels, which are 9.7 BCFD higher year-on-year (YoY) as of April 2019.  Production is forecast to grow further in the summer, given available pipeline takeaway capacity in the Northeast as well as new pipelines coming online in the Permian and SCOOP&STACK. EVA expects that high production this year will result in the second highest injection season on record, injecting 2.6 TCF to reach 3.75 TCF by the end of October. Production growth in the U.S. is also crowding out imports from Canada as Northeast and Bakken gas battle West Canadian supply.  Net imports from Canada are forecast to decline by 0.8 BCFD summer-over-summer.
On the demand side, EVA projects a record-high demand of 82.1 BCFD this summer, mainly stemming from growing LNG exports and strong industrial demand. Power burn is forecast to decline 0.7 BCFD YoY mainly based on the assumption of normal weather compared to last summer's above normal temperatures.  Additionally, record renewable capacity additions will limit the upside for gas burn both in the short and long term. Summer industrial demand has been growing 0.5 BCFD per year on average since 2013, and 2019 is no exception.  Better performance of the whole sector in general, and significant growth in gas feedstock demand in particular, have propelled gas consumption growth at industrial facilities. LNG trains that were delayed last year will enter service this summer including Freeport Train 1, Cameron Train 1, and Elba Island Phase I.  Corpus Christi Train 2 is on schedule and will begin operations this summer as well.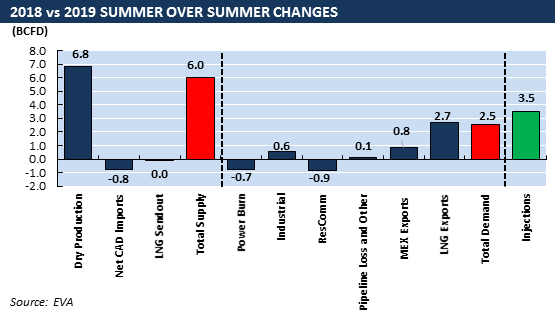 For more information on the U.S. natural gas industry, please refer to EVA's Monthly Short-Term Natural Gas Outlook as well as EVA's Energy Trader Dashboard – Natural Gas.
Energy Ventures Analysis offers in-depth knowledge and expert energy consulting services to clients in the electric power, natural gas and oil, coal, environmental and renewable energy industries. EVA offers cutting-edge energy consulting services, including energy market fundamentals, economic analysis, and operational management that has led the firm to international recognition.
EVA recently has been recognized by Forbes magazine as a top energy consulting firm with outstanding energy consulting services and customer satisfaction.