EVA's annual Power Plant Performance Report is featured in the June issue of PennWell's Power Engineering magazine. The Power Plant Performance Report is based on data and analysis provided by EVA's analysts. The data is collected from Form EIA 923 "Power Plant Report" and EPA's Continuous Emissions Monitoring System (CEMS).
It was another year of growth in 2017 for renewable power in the U.S. Renewable generation increased more than 13 percent over 2016, with generation from solar growing more than 47 percent and wind more than 12 percent over 2016's record-setting year. Meanwhile, generation from fossil fuels declined by more than 5 percent over 2016, as total electricity demand dropped 2 percent year-over-year.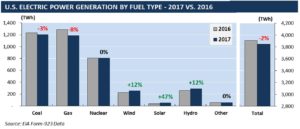 "With flat or even declining electricity demand, fossil fuel-fired power plants continue to lose market share to new renewable generation, which is essentially zero cost generation once it is built," said Phillip Graeter, a senior consultant at Energy Ventures Analysis (EVA), an energy consulting firm based in Arlington, Virginia. This report highlights the top performing natural gas, coal, and nuclear plants, as well as the top states for wind and solar in 2017, according to preliminary data from the Energy Information Administration (EIA).
To read the full report, please click here.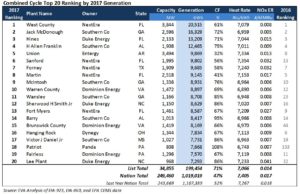 Energy Ventures Analysis offers in-depth knowledge and expert energy consulting services to clients in the electric power, natural gas and oil, coal, environmental and renewable energy industries. EVA offers cutting-edge energy consulting services, including energy market fundamentals, economic analysis, and operational management that has led the firm to international recognition.
EVA recently has been recognized by Forbes magazine as a top energy consulting firm with outstanding energy consulting services and customer satisfaction.