ERCOT August 2019 Price Spikes
Background
August 13th, as temperatures rose during the day, ERCOT power prices climbed to around $6,500/MWh around 2:00 pm before suddenly jumping to the $9,000/MWh that is enforced by market rules from roughly 3:30 pm to 4:45 pm. Two days later, even though system-wide load was several thousand MWs below the 13th, price spiked above $8,000/MWh, hitting the $9,000/MWh limit several times between 2:30 pm and 5:20 pm.
Analysis
ERCOT data shows that three major factors were interacting to cause the price spikes on the 13th and 15th. First, on the 13th load reached more than 74,000 MW, while wind generation only reached 4,200 MW. Wind capacity in ERCOT is roughly 22,000 MW, meaning that approximately 19 percent of all wind generation was active during the price spike.
On the 15th, wind declined even further, reaching roughly 2,000 MW (~9%) as outages climbed to nearly 5,000MW at a time when load was nearly 71,000 MW.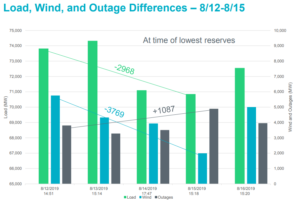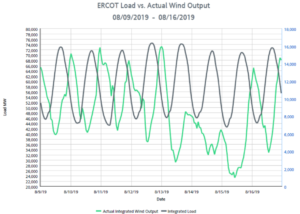 Source: ERCOT
On balance, wind performed well during peak hours of the 2019 summer. Turbines produced 28% of potential output in peak demand hours during the summer of 2019. For comparison, ERCOT gives wind resources a 14% peak demand rating when it calculates reserve margins—indicating that for the summer of 2019, ERCOT wind outperformed expectations to a certain extent. It is well understood that wind generation in ERCOT generally falls during peak hours before climbing through the evening. Yet, the comparison of load versus actual wind output between August 8th and 16th provides some color for why wind output on the 13th and 15th had such a large impact on prices.
EVA's Monthly Renewable Energy Outlook
In June, the scenario analysis in EVA's Monthly Renewable Energy Outlook found that average prices in ERCOT in August would be particularly sensitive to wind output, suggesting that a marginal change in average capacity factors could drive average August power prices above $120/MWh. Although in aggregate wind performed better than EVA forecast, the August ERCOT action reveals the importance of understanding how intermittent resources impact power prices, power burns, and coal and gas burn.
EVA's Monthly Renewable Energy Outlook aims to provide energy traders, large organizations, and relevant stakeholders with a comprehensive, but concise look into how major markets are evolving with renewable energy. For more information on Energy Ventures Analysis or its analytics, please visit our website or email Robert DiDona at [email protected].