This morning EIA announced a 47 BCF withdrawal for gas week ending 3/14. This storage draw brings U.S. total working gas down to 1,143 BCF, with the deficit to the 5-year average narrowing from 569 BCF to 556 BCF. This is the first time we've saw below average withdrawal in a month. In this week's EIA report, non-salt working gas inventories in the South Central region were also revised up 4 BCF for the prior week (week 3/7), resulting in a 200 BCF net withdrawal.
Adjusted for weather, this 47 BCF withdrawal is measured as 3.9 BCFD looser YoY and -1.3 BCFD tighter WoW — actualizing tighter than our observation on weather-adjusted storage samples.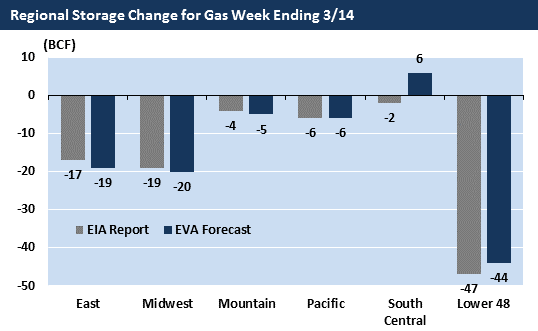 Regionally, EVA's modeling underestimated demand in the South Central region. Our storage samples show strong net injection into the salt facility, which more than offset storage pull from the non-salt facility.
Based on the latest EIA storage report and updated information, EVA expects a 1-1.1 TCF storage level to finish the 2018-19 withdrawal season. We expect to see moderate withdrawals for at least two more weeks before flipping to net injection in early April.