Quarterly coal production data from the Mine Safety and Health Administration (MSHA) show a significant drop in metallurgical coal production for the third quarter in 2017. While year-to-date metallurgical coal production is still well above 2016 levels (+26.7% through Q3), quarter-on-quarter production data shows a 9.5% decline, despite strong export market conditions for U.S. met coal. Specifically, labor problems in Australia and global geopolitical issues have raised concerns about met coal supply and resulted in global market prices remaining above the expected trading range. The main driver of the drop in metallurgical coal production was poor output at a series of large longwall mines, including declines at Warrior Met Coal's Blue Creek #4 & #7 mines, Virginia Conservation Legacy Fund's Maple and Oak Grove mines, Arch Coal's Leer and Mountain Laurel mines, and Blackhawk's Panther mine. While these drops in production could not be compensated for at the smaller mines, the output could very well recover next quarter to close out a strong year for U.S. metallurgical coal production.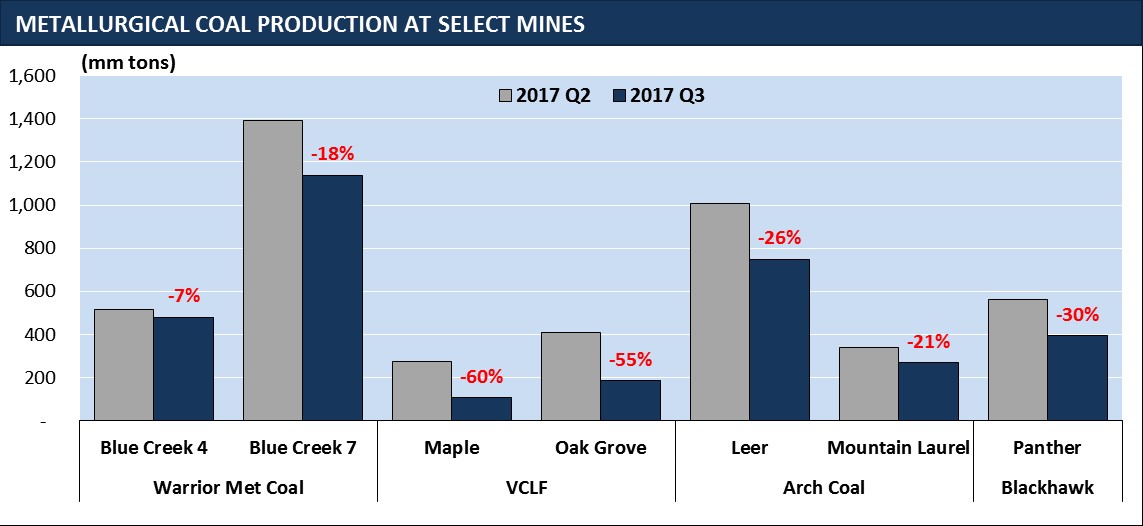 In other coal production news, coal mining production in all eastern coal basins is down from the second quarter due in part to the traditional coal miner's summer vacation schedules. Despite the reduced production in the East, total U.S. coal production is up 5.1% from last quarter, in large part due to strong mining results from the Powder River Basin (PRB). PRB production jumped 20.4% over last quarter due to increased seasonal demand at Midwest coal-fired power plants. 2017 Year-to-date coal production is up 9.6% (+~51 mm tons) over 2016 with the biggest increases coming from the PRB (+28 mm tons) and the Central Appalachian (CAPP) (+10.5 mm tons) coal basins.
For more detailed information regarding producer and coal basin specific U.S. coal production data, please subscribe to our U.S. Coal Production Report.